Congratulations on receiving a Staff Shout-Out, Jenny! We appreciate your passion and willingness to go above and beyond.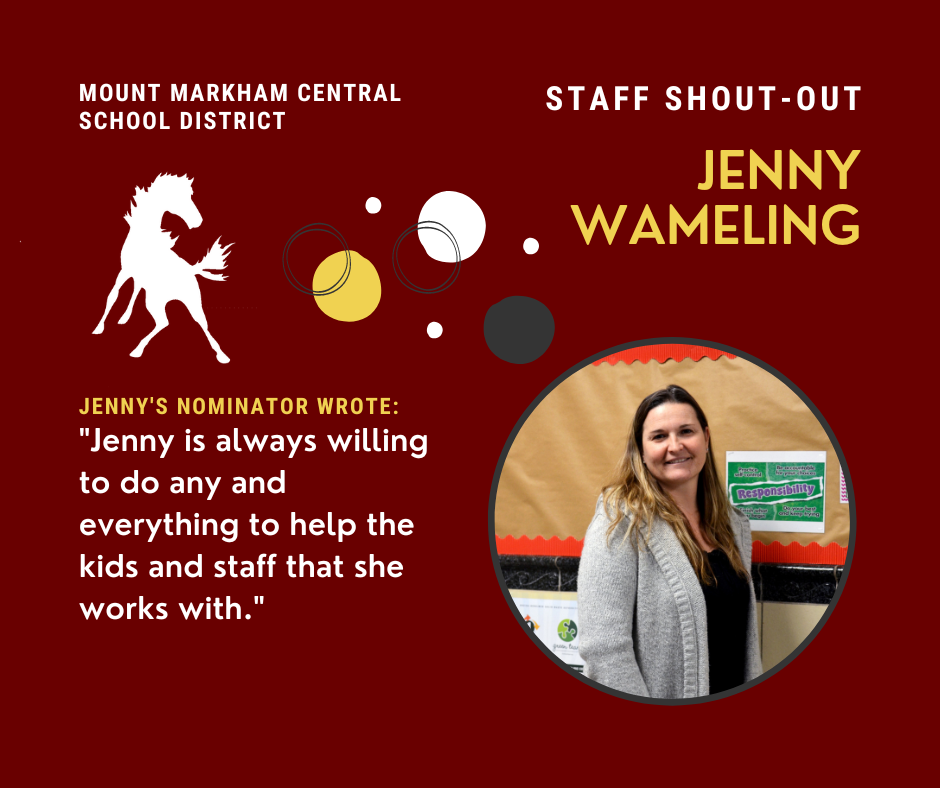 The Mount Markham High School Drama Club is excited to present their upcoming performance of "The Play That Goes Wrong" on Friday, December 9th and Saturday, December 10th! Both performances are at 7:00 pm in the Mount Markham High School Auditorium. Tickets can be purchased at the door and are $10 for adults, $5 for seniors and students and $25 for family. "Break a leg!" takes on a whole new meaning for a woefully misguided troupe of players at the Cornley University Society's opening night performance of The Murder at Haversham Manor. An unconscious leading lady, a corpse who can't play dead, a ruffled detective, and a word-mangling butler (among others) must battle against technical gaffes, forgotten lines and sabotaging scenery in a quest to arrive all in one piece at the final curtain call. Part Monty Python, part Sherlock Holmes, all mayhem, this 1920s whodunit is disastrously delightful.

Congratulations to Karie Sanzo for receiving a Staff Shout-Out! Your hard work is appreciated!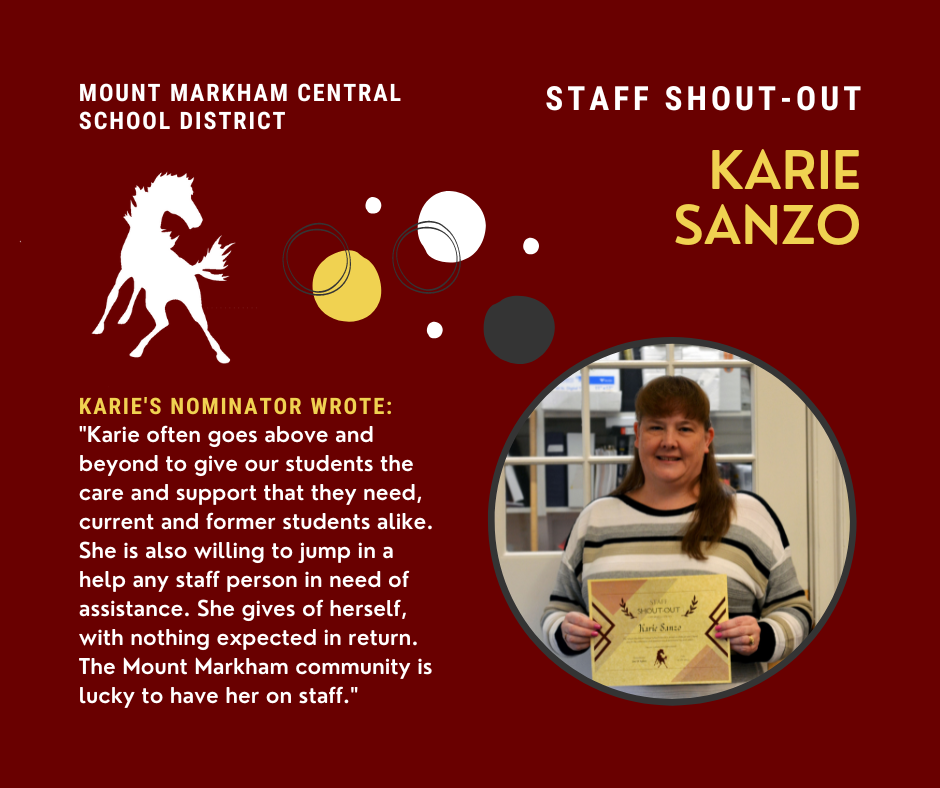 We would like to congratulate Nori Hibbard for being recognized with a Staff Shout-Out! Great job, Nori.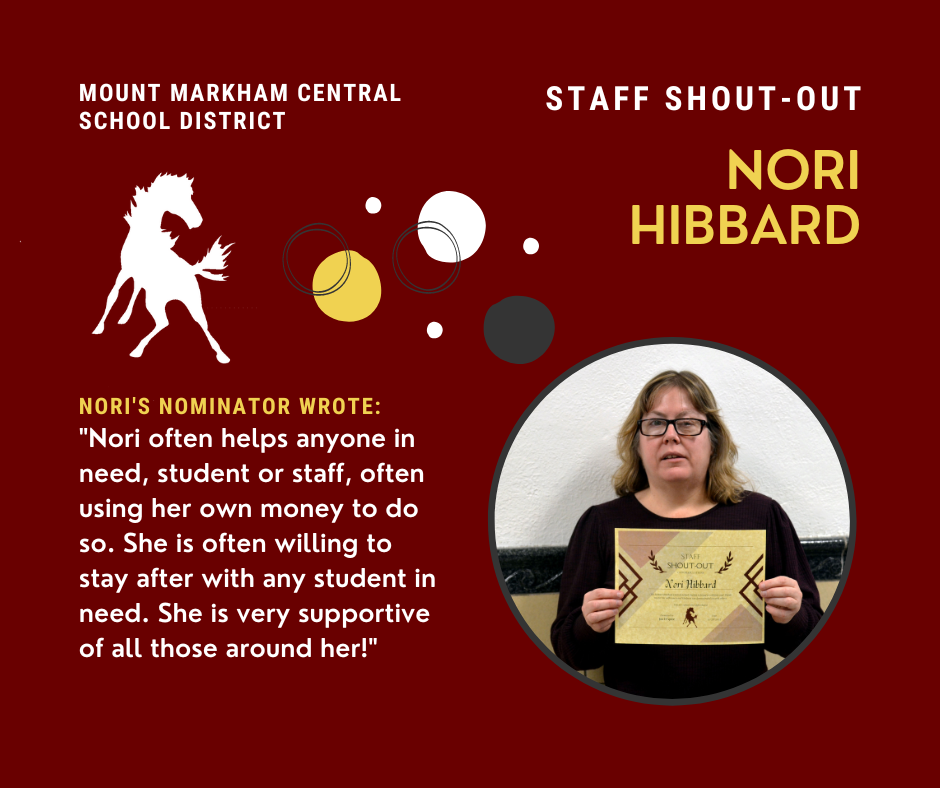 Difference Makers, FFA and NJHS are teaming up again to help Stuff the Bus! We are collecting new, unwrapped toys today through Friday (12/2). Toys can be dropped off in Room 139 at Mount Markham Middle School.

Congratulations, Nicolette! We appreciate all that you do for our students.

REMINDER: Mount Markham CSD will be on recess, November 23-27, in celebration of Thanksgiving.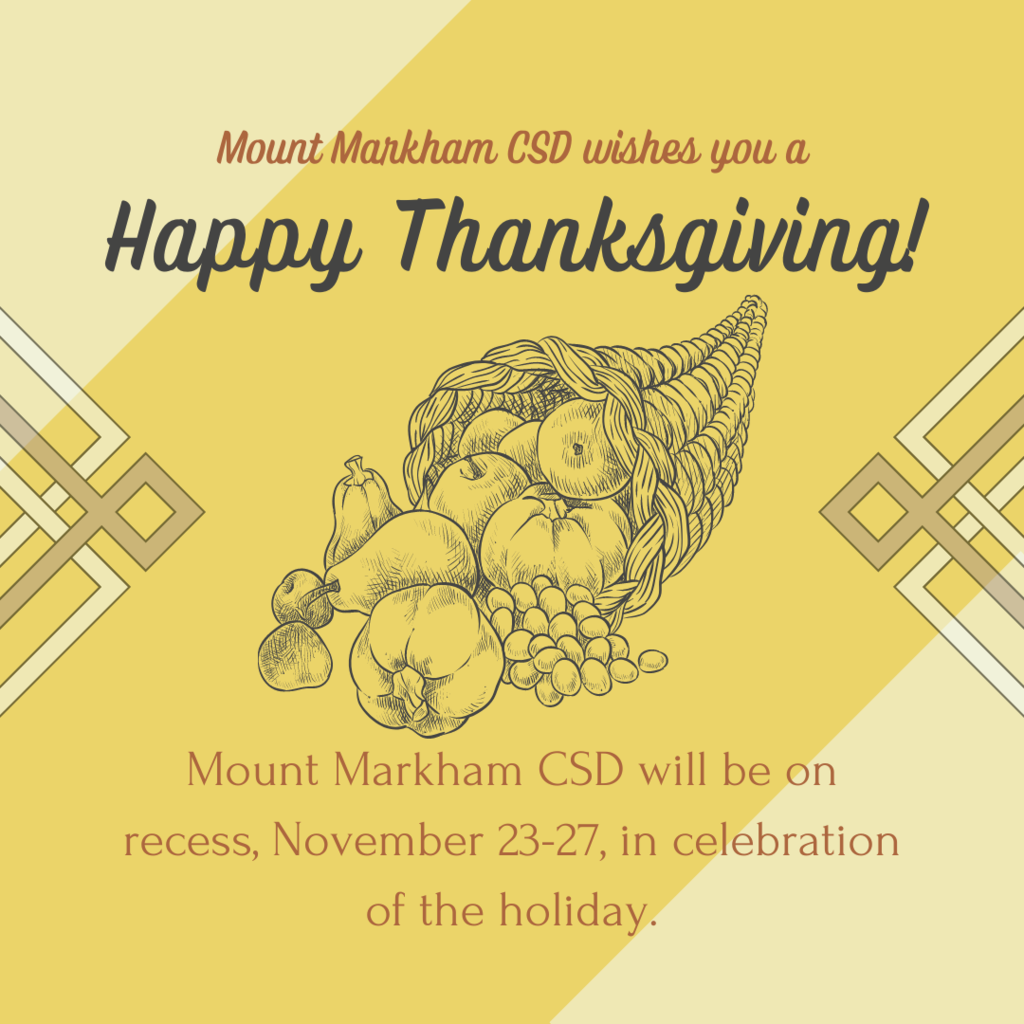 Mount Markham Middle School is holding a Thanksgiving food drive! The drive begins on Monday, November 14 and goes until Thursday, November 17.

Over the last two Thursdays, sixth grade students attended field trips to Colgate University for Earth Science! Our students visited the planetarium, the geology exhibits and had the opportunity to witness an explosion using liquid nitrogen.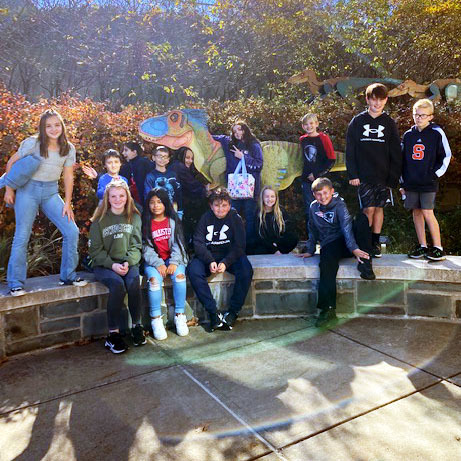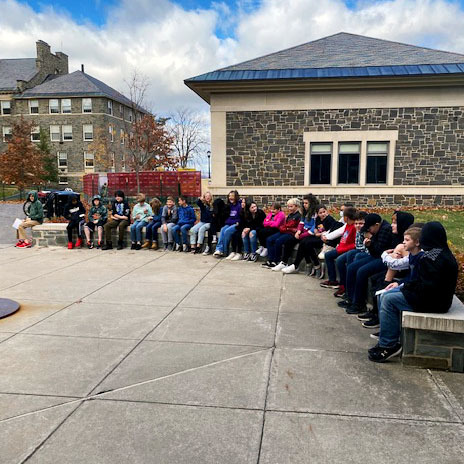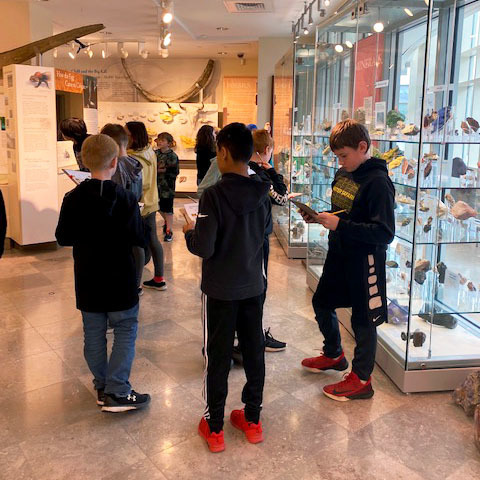 Mount Markham CSD is currently searching for a F/T Night Cleaner and substitute cleaners. See below for additional information regarding these positions. Call Chris Haar at (315) 822-2844 with any questions you may have or stop by the District Office for additional information.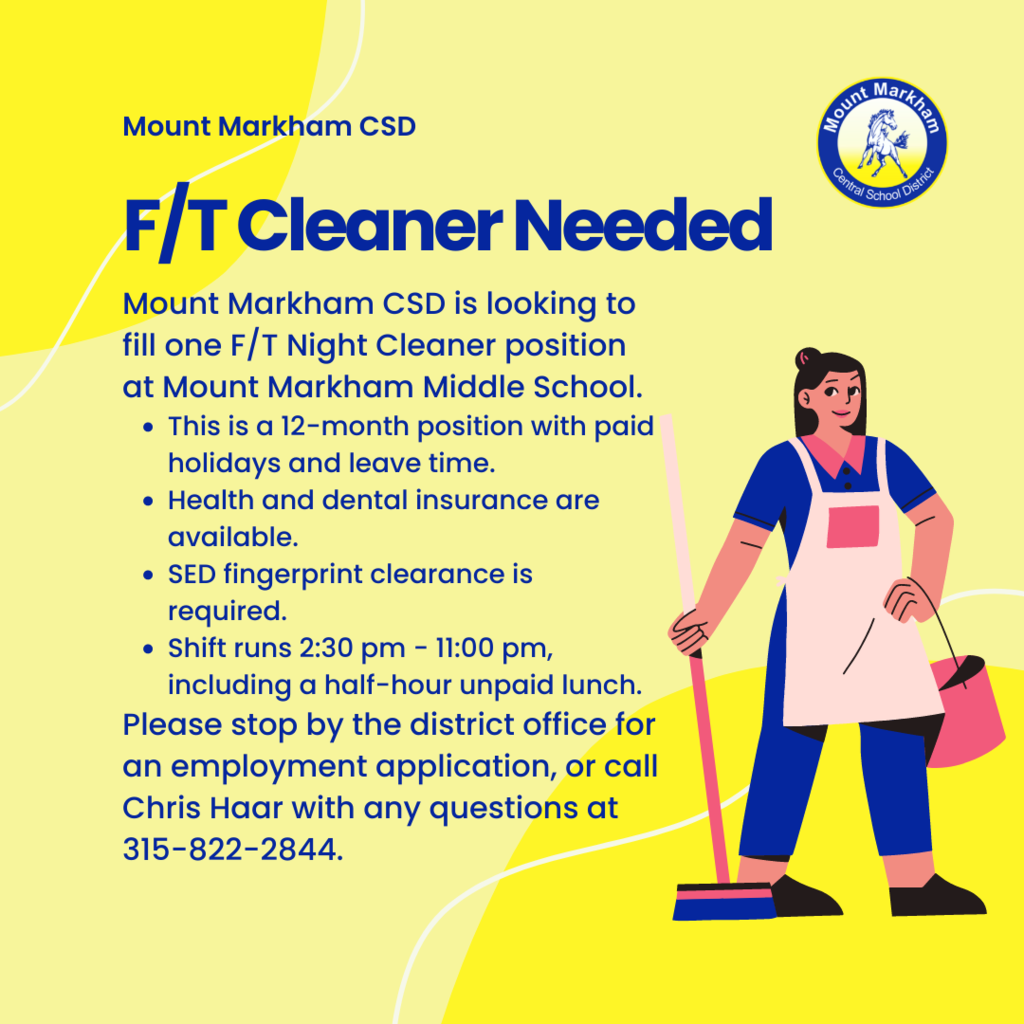 STAFF SHOUT-OUT: Steve Evans Jr. Congratulations to Steve Evans Jr. for being honored with a Staff Shout-Out! Thank you for your willingness to go above and beyond for others.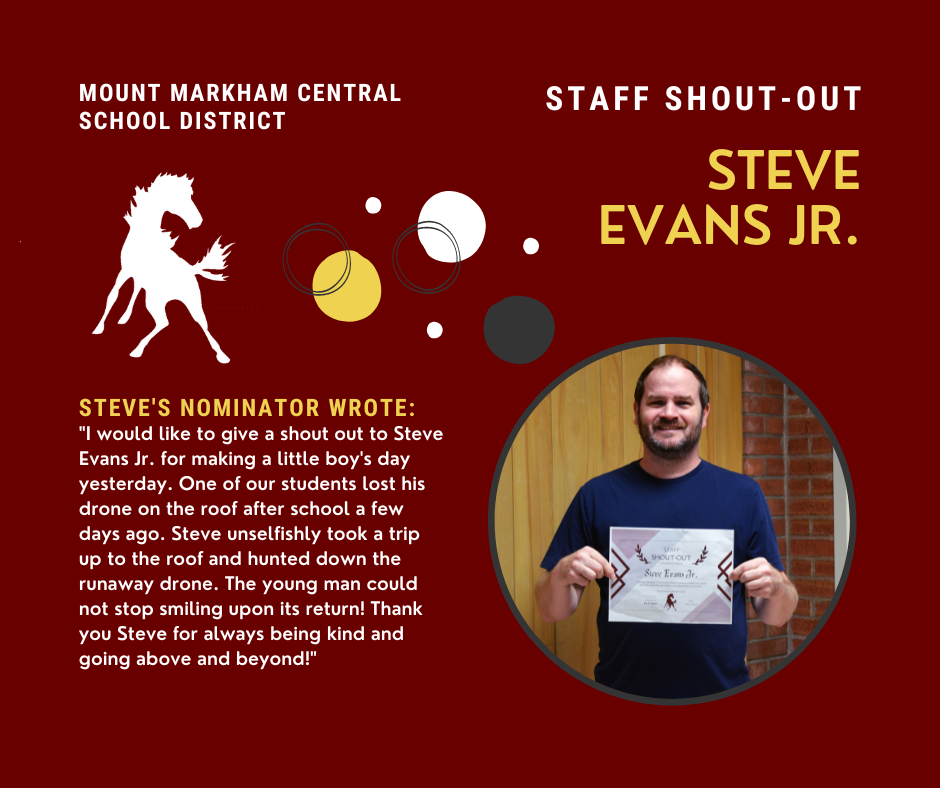 STAFF SHOUT-OUT: Zachary King Congratulations on receiving a Staff Shout-Out, Zach! We appreciate your kindness and compassion towards others.

Mount Markham High School's Spirit Tree is all set up for Halloween!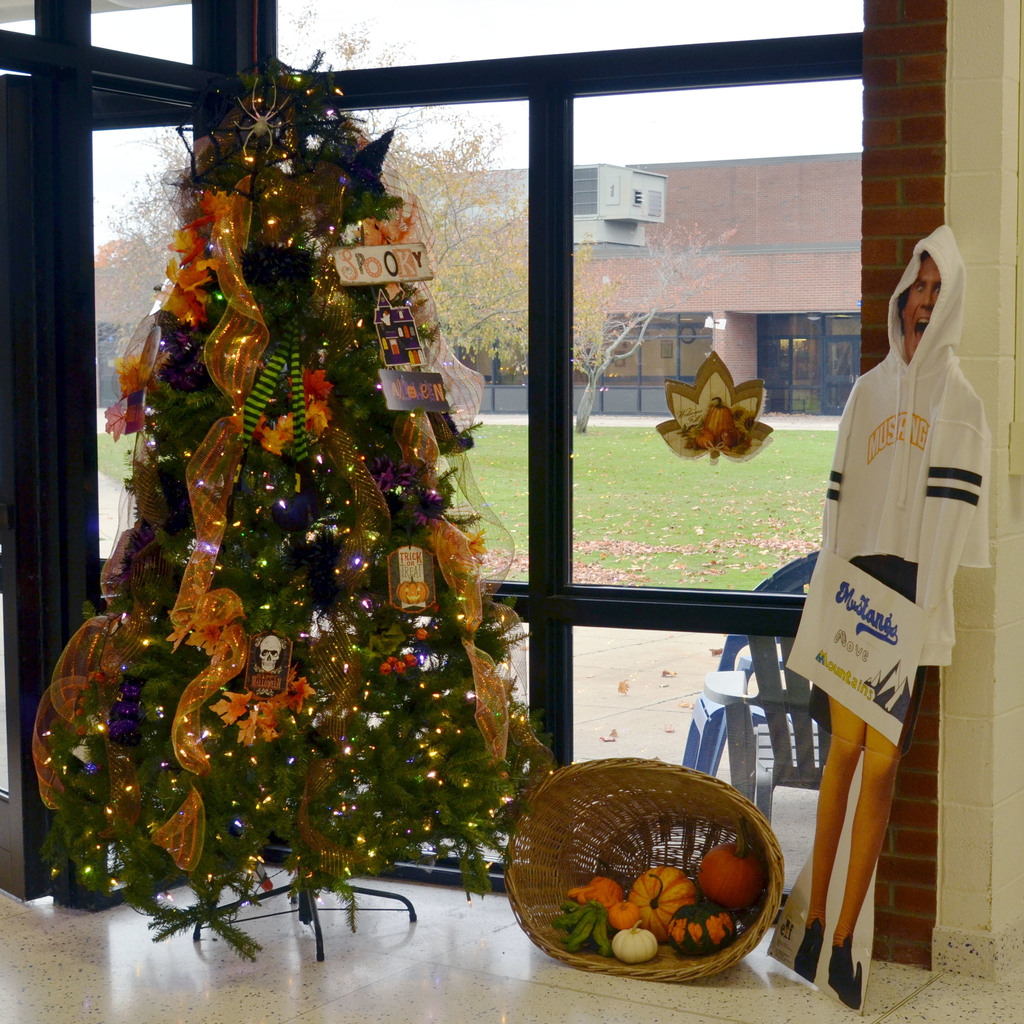 We're almost back to school! Check out our arrival and dismissal times for each school building.