The PBIS Leadership Team is proud to announce our Mustang of the Month award recipients for the month of May. Congratulations to Hannah Nower, Martha Johnson and Amy Hoke!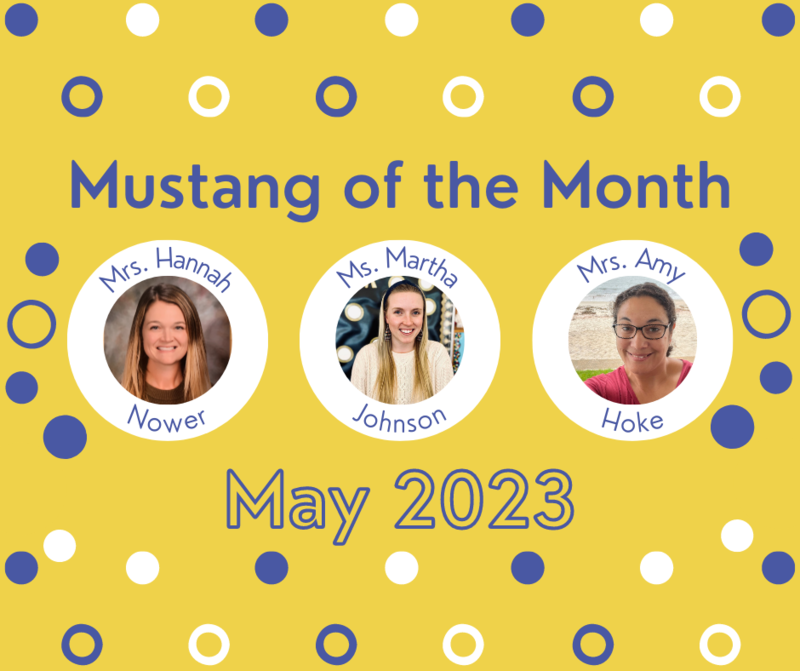 Our first Mustang of the Month, Hannah Nower, is a local to the area, born and raised in Earlville, NY where she still lives with her husband and two children. Hannah Nower was educated at SUNY Cortland and graduated with multiple teaching certifications. Prior to working at Mount Markham CSD, Nower worked in the Johnson City Central School District. Currently, Hannah Nower is a first-grade teacher at Mount Markham Elementary School.
Nower's favorite part about the Mount Markham CSD community is that it shares the rural values that she grew up with.
"We are a close-knit community," Hannah Nower said. "We all look out for one another and truly care. It is the type of community I grew up in and want to be a part of."
Many parents in the district believe that Hannah Nower truly embodies those values.
"Mrs. Nower has done everything she can to help us with our son," one parent said. "He's been having a lot of behavioral issues at home, and some of them carried over to school. Mrs. Nower answers any messages I send her quickly and is always helpful, no matter the reason I messaged her for."
Outside of work, Hannah Nower enjoys reading, taking her dog for walks and spending time with family. Additionally, with her son racing motocross at the national level, Nower enjoys the opportunity to travel and visit different states.
Our second Mustang of the Month is Martha Johnson, a teacher at Mount Markham Middle School. Despite originally receiving a bachelor's in communications, Johnson worked as a nanny in the Oswego area and decided that she wanted to pursue a career in education. Martha Johnson moved to the Utica area and became a teaching assistant at Mount Markham CSD, eventually deciding to return to school for her teaching degree.
For Johnson, Mount Markham CSD has felt like "home," and is grateful to her colleagues and administrators for encouraging her as she became an educator.
Martha Johnson's students are certainly grateful that she decided to be a teacher.
"Ms. Johnson always listens to me when I speak and she helps me when I need it," one student said. "She is always there to tell me to keep going no matter how hard it is or to try until I succeed."
For Ms. Johnson, the most important piece of advice she can give was something that she was told by a colleague.
"I was told by a fellow teacher and good friend of mine that the golden ticket of teaching is to try to connect with each and every student," Johnson said. "This is truly my favorite piece of advice I've taken to heart. Even the most challenging students can be connected with, and I believe it's our job as educators to help students find their own abilities and strengths."
When she's not at work, Martha Johnson enjoys reading, baking, staying active and spending time outdoors, most likely while listening to Taylor Swift because – as any of her students can confirm – Johnson is a major "Swiftie."
Our final Mustang of the Month, Amy Hoke, has called Mount Markham home her entire life, graduating from Mount Markham High School in 2001. Hoke completed her associate degree at Herkimer County Community College and later attended the Herkimer County BOCES LPN program. Currently, Amy Hoke works as a teacher's aide at Mount Markham High School, although she can be found working on any task that comes her way.
Hoke's favorite part about the Mount Markham CSD community is that so many of the teachers, administrators, faculty and staff share her values and are willing to go above and beyond to support the students.
Amy Hoke's colleagues have noted her willingness to help wherever she is needed and the positive attitude she always has when doing so.
"Mrs. Hoke is always such a positive influence and presence in every role that she is asked to take on," one colleague said. "From being a TA, covering classes and answering phones in the office, Mrs. Hoke does anything and everything that is needed to make the school run smoothly, and usually does so with a big smile."
Outside of work, Amy Hoke likes to travel and spend time with friends and family. Hoke also enjoys taking photos, and she can often be seen at athletic events, photographing Mount Markham CSD student-athletes.