School lunch and creativity were synonymous in the sixth annual Top Cut Beef Contest for elementary, middle, and high school students. Many classrooms competed to develop a beef recipe of their choice that could be served in their school cafeteria, while also working with their school's food service personnel to identify the process of procuring, preparing, and providing a balanced school lunch. New York Agriculture in the Classroom and the New York Beef Council are pleased to announce the winners of the Top Cut Beef Contest.
Students and teachers in grades three through twelve were exposed to beef production and nutrition by developing a recipe and marketing strategy for a food product of their choice and design. In this hands-on experience, students were exposed to the versatility of beef and safe food handling practices while also learning about the multitude of agricultural careers and skills it takes to develop a recipe.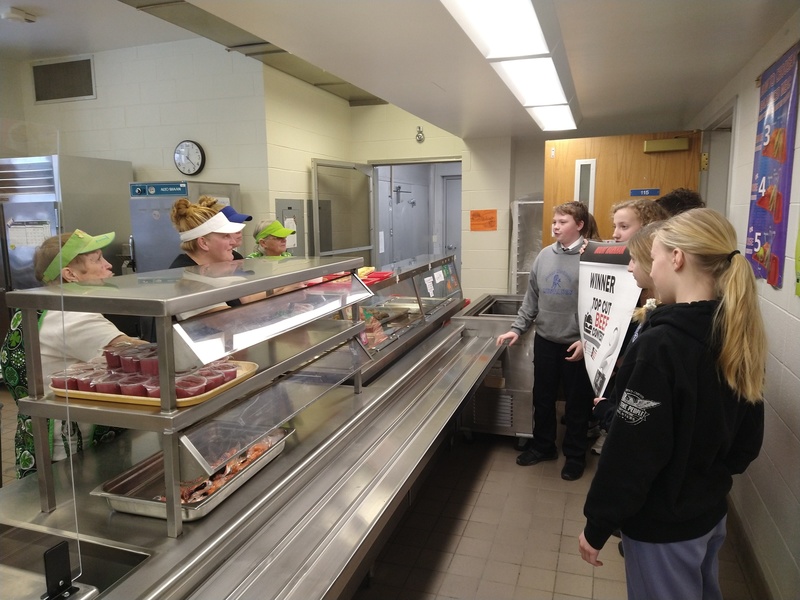 Students created beef-centric recipes that their fellow students might enjoy from the school cafeteria. They were challenged to work with their school's food service teams to learn about how schools procure their food, the budget limitations that exist, and the nutritional requirements that should be followed. Our Mount Markham Middle School cafeteria team was an incredible resource for our students. Students filmed their own commercials, drew logos, and wrote morning announcements to market their products. Mrs. Blackwell helped our students use instructional technology techniques to make their ideas come to life for their project.
To add context and provide students with the necessary information for the contest, classrooms were invited to attend four live Virtual Field Trips where they learned about the processes from farm to cafeteria tray. Students also dove into food safety and honed their cooking skills with pre-recorded videos made by the New York Beef Council. The entries from across the state were judged by a panel of beef producers and industry experts.
Each entry was evaluated on the product, market analysis, marketing plan, and beef nutrition analysis. The first-place classroom in each division will receive $250, the second place earns $100, the third place earns $50, and all receive a banner to display their achievement. The first-place schools will also receive a barbeque grill for their classroom from the New York Beef Council. Mount Markham Middle School's team earned second place and received a pizza and ice cream sundae party, along with each teammate receiving a Stewart's make-your-own sundae gift certificate.
Diversity and inclusion are a part of Cornell University's heritage. We are a recognized employer and educator valuing AA/EEO, Protected Veterans and Individuals with Disabilities.
For more information about the Top Cut Beef Contest, visit the New York Agriculture in the Classroom website at www.agclassroom.org/ny. New York Agriculture in the Classroom is a partnership of Cornell University, the New York State Department of Agriculture and Markets, the New York State Education Department, Cornell Cooperative Extension, and the New York Farm Bureau. New York Agriculture in the Classroom fosters an awareness, understanding, and appreciation of our food and fiber system.
Elementary School Division:
| | | | |
| --- | --- | --- | --- |
| Place | School | Product | Teacher |
| 1st | Truxton Academy Charter School | Meatball Meatball Meatball! | Chelsea Lembo |
| 2nd | Truxton Academy Charter School | Inside-Out Sliders | Chelsea Lembo |
| 3rd | Truxton Academy Charter School | Truxton Tacos | Judith Sands |
Middle School Division:
| | | | |
| --- | --- | --- | --- |
| Place | School | Product | Teacher |
| 1st | Carrie Palmer Weber Middle School | Beefy Brawlers | Carrie Lindstadt-Iurka |
| 2nd | Mount Markham | Good Golly Goulash | Katie Lindsey |
| 3rd | South Seneca Middle School | Chili Sundaes! | Patricia Parsons |
High School Division:
| | | | |
| --- | --- | --- | --- |
| Place | School | Product | Teacher |
| 1st | Pavilion High School | Gopher Gordita Crunch | Jennifer Stringer |
| 2nd | Stockbridge Valley | Beefy Thai Noodles (Pad-Kee-Moa) | Erin Smith |
| 3rd | Sherburne-Earlville Central School | Marauder Bowl | Karen Mulligan |